Introducing Constructalia's newest feature: SiCA – Steel in Construction Academy
It is with great pleasure that we introduce SiCA: Steel in Construction Academy, latest development available for free on digital platform Constructalia, ArcelorMittal's steel for construction website.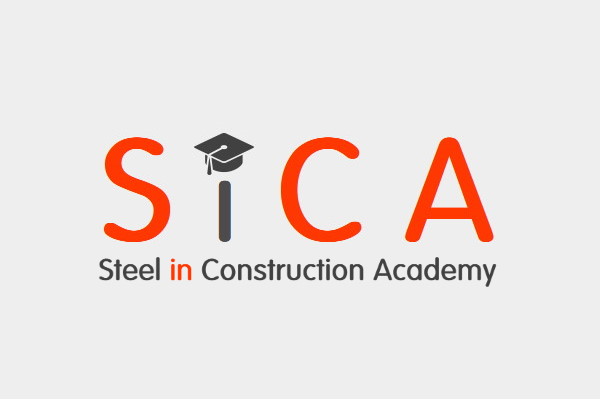 SiCA is a self-learning online platform for those in, or joining, the construction industry focussed on the use of steel as the material of choice for construction applications and required performances.
The story of SiCA
Almost 30 years ago, a consortium of more than 200 European steel and steel construction specialists came together to implement a training programme to further the development of the use of steel in construction. Usinor-Sacilor and Arbed, now ArcelorMittal, were part of this consortium and participated extensively. Called ESDEP (European Steel Design Education Programme), it was completed and published in many countries in books, articles, and presentations. However, aside from a few universities publishing the complete works, the full content was rarely disseminated.
Three years ago, the Constructalia team decided to take all of this content and revise, update, and enrich it. This is how SiCA was born. The first 61 lectures have just been unveiled – soon to be followed by many more.
With the help of experts, ArcelorMittal have paid particular attention to updating as per the current standards and regulations, especially to comply with the most recent versions of the Eurocodes. Company also included new products and solutions in connection with our site content.
This is just the beginning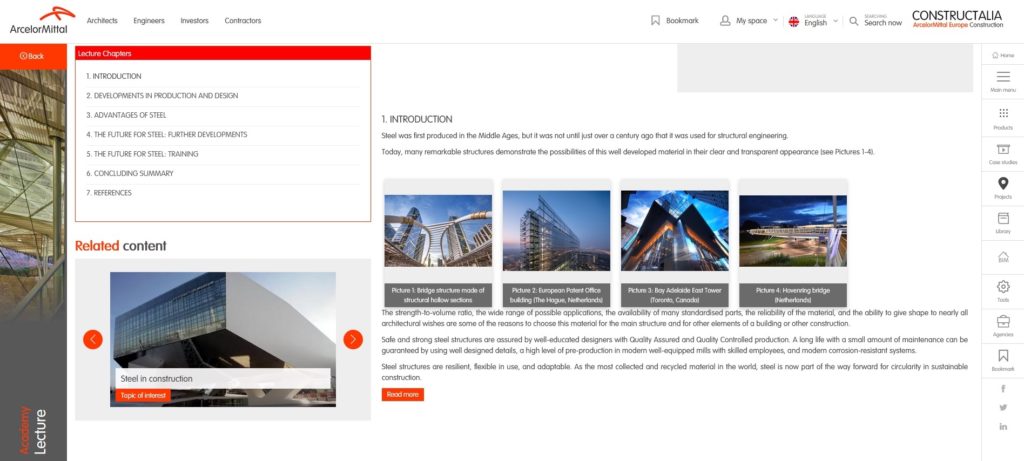 Topics such as sustainable construction with steel, energy efficiency, or the circular economy were not of great importance all those years ago when this content was first created. Not only have we updated the content to meet the needs of these now very important topics, but such themes will be the subject of upcoming lectures.
About Constructalia
Constructalia is the reference website for ArcelorMittal Europe's products and solutions for the construction market. It is designed to provide engineers, architects, and every decision maker in construction projects with all of the relevant information and tools for their activities.
Constructalia features an e-catalogue with the entire range of ArcelorMittal's product offer for the construction industry. It also offers "solutions by" approaches – classified by application, construction type, and performance. An extensive case study gallery and a project reference map provide inspiration. In our document library, technical guides, brochures, design software, EPDs, and BIM objects can all be downloaded for free. Constructalia is available in English, Spanish, French, Italian, German, and Polish.
A monthly newsletter keeps registered Constructalia users up to date with the latest innovations and developments in ArcelorMittal steel solutions and other interesting topics concerning construction and the steel industry.
https://constructalia.arcelormittal.com
About ArcelorMittal
ArcelorMittal is the world's leading steel and mining company, with a presence in 60 countries and primary steelmaking facilities in 16 countries. In 2021, ArcelorMittal had revenues of $76.6 billion and crude steel production of 69.1 million metric tonnes, while iron ore production reached 50.9 million metric tonnes. Our goal is to help build a better world with smarter steels. Steels made using innovative processes which use less energy, emit significantly less carbon and reduce costs. Steels that are cleaner, stronger and reusable. Steels for electric vehicles and renewable energy infrastructure that will support societies as they transform through this century. With steel at company's core, inventive people and an entrepreneurial culture at heart, ArcelorMittal supports the world in making that change. This is what the company believes it takes to be the steel company of the future. ArcelorMittal is listed on the stock exchanges of New York (MT), Amsterdam (MT), Paris (MT), Luxembourg (MT) and on the Spanish stock exchanges of Barcelona, Bilbao, Madrid and Valencia (MTS). For more information about ArcelorMittal please visit: http://corporate.arcelormittal.com